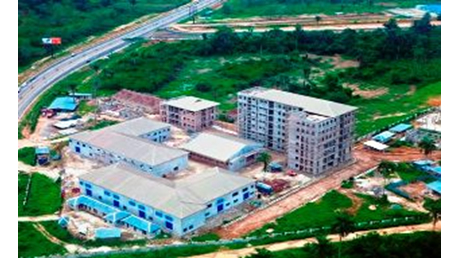 S&A provided full mechanical and Electrical Engineering designs and supervision Services, as well as Plumbing, Fire Protection, Communication, and Extra Low Voltage engineering services for Skill Acquisition Centre, Port Harcourt.
Buildings include; Nine Storey Tower Building, Library Complex, Light Scale Industry Workshop Complex, Heavy Scale Industry Workshop Complex, Hostels for students accommodation, 500 Seater Auditorium, Cafeteria, Generator House and Maintenance Yard and a Residential Estate.
Infrastructure provided include; External Electrical Infrastructures, External Mechanical Infrastructures, 1500-persons Sewage Treatment Plant, Water Treatment Plant, 33KV 2 x 2.5MVA power substation, 11KV package substations, 11kv underground reticulation network and external lighting system.